Map to
Whitney Lodge 229 F&AM
Home | History | Meetings | Officers | Past Masters | Masters Trestle Board | Links | Map | How2B1 | Memorial
Bottom of page

Whitney Lodge # 229 is located southeast of Muncie IN in the small town of New Burlington IN.
You can get to our lodge by going south out of Muncie IN on State Road 35 South.
Scroll down for further instructions.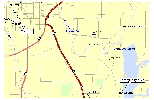 Click here for larger maps to lodge.
Turn left on County Road 500 South, turn right on Burlington Pike,
and left on County Road 475 East
The lodge is on the right hand side of the road.
We are looking forward to seeing you at our Lodge.
Link to picture of our lodge building.
---
© 2000 Whitney 229. All Rights Reserved
Top of page